Greeting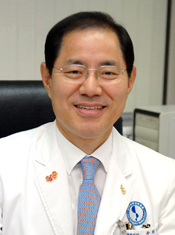 Greeting from ASGO President
Dear Colleagues,
I am honored to be appointed President of Asian Society of Gynecologic Oncology (ASGO) at the 5th Biennale of ASGO in Tokyo in December 2017.

The 5th Biennale was held better than previous meetings. We had lectures on topics in a variety of fields from distinguished speakers from Asia and around the world. I am confident that the conference will contribute to improving patient outcomes in our field in Asia. On behalf of ASGO, Professor Daisuke Aoki, congress president, and Professor IkuoKonishi, immediate past president, thank you for your hard work for the development of Society.
First of all, let's look at our history. In early 2000, some doctors in Japan and Korea discussed the need for Asian regional society of gynecologic cancer. So, we held ASGO inaugural meeting in Seoul in 2008. Therefore, 2018 is the 10th anniversary year of ASGO's founding. ASGO has made tremendous progress despite its 10 year short history. Once again, thank you to the founders.
The ASGO Council met in Tokyo during the 5th Biennale in December 2017 to continue the Society's agenda forward. I am very grateful to the Council for discussing outstanding achievements for the development of our society. One of the key decision at this Council was to hold meetings across Asia outside Japan and Korea for the first time (Workshop 2020 and Biennale 2021). I will make this change an opportunity for the society to expand and develop, and I would like to ask all members to cooperate with this change.
I am convinced that the Society has contributed to improving the results of gynecologic cancer patients in Asia, which is ASGO's mission and vision. However, it is still not enough in some area in Asia. In particular, I think there should be more educational programs for young doctors to achieve the purpose of the society. For this purpose, I will make a lot of efforts including the establishment of educational committee within the Society.
I also want to strengthen relationship with our sisterhood societies such as IGCS, ESGO and SGO. In the meantime, we have established partnerships with those societies so that we can become a truly global society devoted to improving the results of gynecologic cancer patients in Asia. In the future, ASGO will make a joint effort to support relevant international societies.
I need members' support in order to successfully carry out these tasks, and let's all join together to make ASGO go forward.
Best regards


Hee-Sug Ryu, MD, PhD
The President of Asian Society of Gynecologic Oncology