Greeting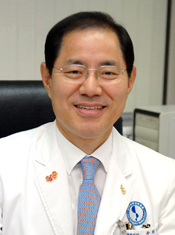 Greeting from ASGO President
Dear Friends and Colleagues:
It is a great honor for me to be appointed as President of Asian Society of Gynecologic Oncology (ASGO) at The 4th Biennial Meeting of ASGO in 2015. I would like to express my sincere thanks to Immediately Past President Professor Joo-Hyun Nam for his excellent effort for advancement of Society.
In Asian countries, we have still so many women suffering from gynecological cancer, and therefore we have to continue our task about diagnosis, treatment, prevention, and researchonfemale cancers. Fortunately, medical care in each Asian country has dramatically been improving, and since 2009 we have established ASGO as our platform to meet together, exchange knowledge and experience, and educate young oncologists and medical stuffs for better women's healthcare.
Actually, the 4th Biennial Meeting of ASGO in Seoul during November 12-14, 2015, was very much successful under the leadership of President of Professor Joo-Hyun Nam and Congress President Professor Hee-SugRyu. Attendants from all over the Asian countries enjoyed the high-level scientific program and also the social events, and re-confirmed the benefits from ASGO in order to improve our clinical practice. Another important point is that we can make true friends each other at meeting. In this sense, further development of our ASGO is more and more important for us and for our Asian women.
I will do my best for this purpose of ASGO, and ask all of you to give your contribution to further achievementof our Society in the comingyears.
Thank you very much for your kind attention and continuous co-operation.
With best regards,


IkuoKonishi, MD, PhD
President
Asian Society of Gynecologic Oncology (ASGO)