Greeting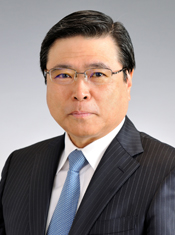 Greeting from ASGO President
Dear Colleagues,
I would like to express my greeting here as I am honored to be appointed President of the Asian Society of Gynecologic Oncology (ASGO) at the 6th Biennale of ASGO in Incheon in October 2019.
ASGO was established by leaders of Japanese and Korean gynecologists in consideration of the need for an Asian regional society dedicated to gynecologic cancer, and held its first meeting in Seoul in 2008. Since then, six biennial meetings and five international workshops have been held to date. At present, gynecological oncology societies including JSGO (Japan), KSGO (Korea), TAGO (Taiwan), TGCS (Thailand), HKSCCP (Hong Kong), CMA (China), AGOI (India), INASGO (Indonesia), SCCPS (Singapore), SGOP (Philippines) and MGCS (Malaysia) from 11 countries and regions have participated, and it has become a truly unified organization. During my two-year term, the 6th International Workshop will be held in Taiwan in 2020 and the 7th biennial meeting in Thailand in 2021. This is the first time that these meetings will be held outside of Japan or Korea, which means that ASGO will truly become the property of Asia, not just the founders. By taking advantage of being close to each other in Asia, despite different cultures and traditions, the countries participating in ASGO will deepen their alliances, allowing them to exchange information intimately while maintaining medical diversity. I believe mutual respectful alliances can help to eliminate cancer-care disparities in Asia.
In recent years, new topics have appeared in gynecological oncology, such as immunotherapy, cancer genomic medicine, and minimally invasive surgery represented by robotic surgery. We gynecologists must always acquire new knowledge and techniques without delay. The progression of medical technology and the development of basic research are now advancing at an unprecedented rate, and it may not be enough to study individually or work in a single region to keep up with it. It is time for gynecologists in Asian countries to work closely together to study various issues for the future. Let's share experience through ASGO, develop gynecological oncology in each country, and transmit new technologies and information from Asia!


Daisuke Aoki, M.D., Ph.D.
The President of Asian Society of Gynecologic Oncology